General Overview
Despite record Natural Gas production, record exports keep a tightening Natural Gas market in play, possibly setting the stage for bullishness medium-to-longer term.  The upside potential looks stellar as NG prices look for support near this level 250's/268 area.  I believe that buying will push this market up substantially this year, possibly above $3.00-$4.00.
Fundamentals
On the Supply and Demand front, U.S. natural gas production remains at record levels.  Still, exports are also at record levels, which reduces the amount of gas available for domestic consumption.  Record exports pull from the overall supply.  So, essentially, these record exports are bullish, and they continue to climb even as the price continues weak because of record production.  This is bound to change soon and I believe we are close to market capitulation.
Note the Monthly US Natural Gas Export Chart (2006-2018):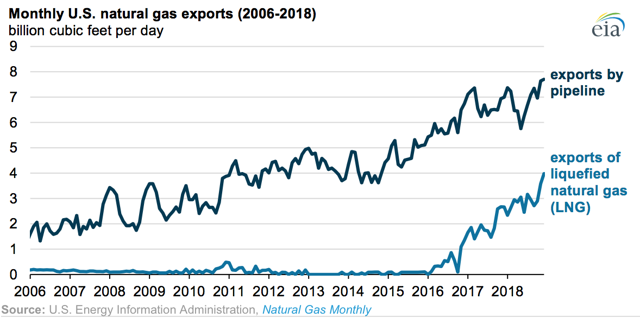 Source: EIA
Remember that record exports can indicate vulnerability for the potential of a tightening market as it could lead to domestic demand growth or supply concerns, which might indeed trigger a bullish move.
SocGen Stance
Societe Generale said in a note to clients last month that it had shifted its stance on natural gas from "bearish/neutral" in 2019 to "neutral/bullish."
Why?
"[W]e see upside to our 2019 demand forecast tied to both power generation and liquefied natural gas (LNG) exports", an analyst from SocGen said.  "The bearish offset could of course be production outperformance, but we see this bearish risk as weighted heavily to November and December, which still leaves the next seven months vulnerable to tightened fundamental optics."
Demand Is The Story
What's crucial to realize is that this price has been in the doldrums for many months.  However, demand hasn't abated, and the record supplies have been factored into the current price in my humble estimation.  Consumption is expected to increase at a healthy pace over the next several years, fueled by new gas-fired power plants and exports to Mexico as well as through newly built liquefied natural gas terminals.
This forecast bodes very well for gas-focused pipeline giants Kinder Morgan (NYSE:KMI) and Williams Companies (NYSE:WMB). Not only are both companies seeing record volumes flowing through their existing pipelines, yet anticipated growth is also driving the need for expansion.  That has the management teams of these gas-focused infrastructure companies growing increasingly bullish about what lies ahead.
Overall Market Analysis
I think it's more likely that the Natural Gas futures price climbs throughout the rest of the year.  It may have a dip her and there, but I believe that the overall trend will be higher this year, and strongly so.